Emergency Board-Up Services in Nassau County
Emergency board-up services for your home or business are essential for those unexpected moments in life. Whether you have had a fire, a break-in, a storm, or several other issues, you can find that your windows and doors are broken and it is not safe to just leave them open.
With the help of emergency board-up services, you will be able to have your property boarded up quickly and safely until you can get permanent repairs done.
Reasons to Use Emergency Board Up Services
There are a couple of reasons why you may need to call on an off-hours emergency board-up service. Here are some of those situations:
Severe weather conditions: If a storm has damaged your property, it can be hard to prevent unwanted entry until you can repair the damage. Boarding up windows and doors will help protect you from further damage.

Vehicle impact damage: If a vehicle has hit your building and caused structural damage, you may need a professional boarding-up service to secure it for you until repairs are done.

Vacant buildings: If you have a vacant building, it may be possible for intruders to get in. You can call a professional boarding-up service to secure it for you. This will keep unwanted visitors out until repairs can be made.

Fire damage: Fire damage can be catastrophic to any building. Not only does it destroy the structure, but also leaves behind toxic debris that can be harmful if inhaled. When a structure has experienced fire damage, it must be boarded up as soon as possible. This will protect the structure from further damage and keep people from entering it illegally.

Vandalism or break-ins: Boarding up windows after an attempted break-in can prevent further damage and help protect your property until repairs are made.

Overall Preventative Measures: If you live in an area where severe weather is common, you should consider having your windows boarded up before the season hits full swing. Boarding up your windows will help prevent damage from wind and water during storms, keeping your home safe and preventing expensive repairs later on.
Save on Costs With Emergency Board Up Services
Did you know that board-ups can also save you money? It's not just a way to protect your property from further weather damage. Board-ups can save you money on different levels.
Here are some additional ways that board-ups can save you money.
1. Reduce Insurance Premiums
Boarding up your building after a disaster is not just a good idea for your bank account, but also your insurance premiums. After a disaster, your insurance company will want to see that you have done everything possible to protect your building and prevent further damage.
If they see that your building is boarded up and no longer vulnerable to vandals or weather, you will likely receive lower insurance premiums going forward.
2. Protect Your Investment
Your building is an investment, both financially and emotionally. It's where you do business every day and shapes the future of your company. Don't leave it open to further damage from intruders or the weather.
Boarding up protects your investment from any further damage from intruders or bad weather conditions such as rain, wind, or snow. This means less money spent on repairs later down the road.
3. Liability prevention
If your business is open to the public, you are legally obligated to do everything in your power to prevent accidents on your property. By getting the damaged area boarded up, you limit liability for anyone who might be injured by falling debris or broken glass that may be present after a storm or accident.
The cost of settlement or litigation could far exceed the expense of an emergency board-up service that prevents issues in the first place.
Secure Your Property with Board-Ups Today
Remember that not only are board-ups cost-effective, but they are also fast and efficient too! You can count on our team to provide you with the highest quality service at an affordable price.
Here at [company name], our board-up services protect your property from the elements and keep it safe from intruders, giving you one less thing to worry about until you're able to get everything back in order after an emergency.
If you've found yourself in need of board-up services and want the assurance of a fast, efficient, and friendly service, give us a call at [phone number] or fill out this form: [form] for more information.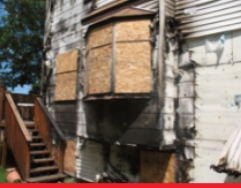 Emergency
RESPONSE TEAM
(516) 544-2005

Full Board Up Services
Mitigation
Winterization
Plumbing – Electric
Rebuild – Construction